Do you have trouble attracting customers? Catch fish while they are biting! The time before holidays is a goldmine for Amazon sellers. Shoppers are ready to spend money and enthusiastically look for gifts, decor, holiday costumes, and many other items for themselves and their loved ones.
As a seller, you need to know the important dates and holidays, prepare your products, set up ads in time for relevant keywords, and make an offer your buyer can't refuse. So that you don't miss key events and holidays in 2023, we've compiled a calendar of holiday dates for Amazon FBA sellers.

Key Selling Dates and Holidays for Amazon Sellers in 2023
The key sales events of the year for Amazon sellers are Prime Day, Black Friday, Cyber Monday, and Christmas holidays. But if you focus only on these important dates, you will lose the opportunity to get some sales on seasonal items. Include various holidays and key dates in your marketing plan to use prime selling time to your advantage.
Q1 – Time for New Year's Resolutions and Love
January Holidays and Key Dates
With the start of a new year come New Year's resolutions – and an influx of customers seeking to get fit after the holiday season. Health and fitness businesses on Amazon must be prepared with discounts or coupons to capture these shoppers and maximize sales profits. Offering promotions is an effective way for sports and health retailers to take advantage of this consumer surge and boost earnings!
January 1 – New Year's Day
January 10-12–The Outdoor Retailer Snow Show
January 15-17–NRF 2023: Retail's Big Show & Expo
January 16– Martin Luther King (MLK) Day
February Holidays and Key Dates
February is a perfect time to take advantage of seasonal items that will be in demand without fail. Super Bowl Sunday and Valentine's Day are two events you don't wanna miss. With the appropriate planning, you can make a tidy profit from these annual events!
Super Bowl Sunday is the largest annual sporting event in America, and every year it generates huge revenue growth for eCommerce businesses specializing in sports and party products. To capitalize on the Super Bowl's enormous reach and influence, keep tabs on any products or shopping trends that receive a surge of attention following the big game.
Benefit from Valentine's Day by offering customers gifts that are perfect for their special someone! Whether it be something For Him or Her, there are plenty of opportunities to increase your sales and make this February profitable.
Сrucial! If you wish to maximize the chance of customers finding your store, you must include Valentine's Day-related keywords in this month's product listings.
February 1
February 1 – Deadline to send tax form W-2 to employees and IRS
February 2 – Groundhog Day
February 12 – Super Bowl Sunday
February 14 – Valentine's Day
February 20 – President's Day
February 20 – Family Day (Canada)
February 28 – Deadline to file 1099s through the mail with the IRS (form 1096)
Read "Amazon 1099-K Reporting for Amazon Sellers: Everything You Need to Know" to understand the Amazon 1099-K report and know how it`s calculated.
March Holidays and Key Dates
While St. Patrick's Day is not one of the biggest holidays for eCommerce businesses, March marks when everyone starts looking forward to sunnier days, and people begin shopping for products associated with this season.
March 12 – Daylight saving time
March 15 – Deadline to file S-Corps (form 1120-S) and for partnerships (form 1065)
March 17 – St. Patrick's Day
Q2 – Easter Season and Family`s days
April Holidays and Key Dates
April is the ideal month to capitalize on the Easter season. FBA sellers selling candy, chocolates, and other seasonal items can make a huge profit. Additionally, as spring is in full bloom, warm-weather items will be in high demand!
This Easter holiday can bring a surge in sales, but remember to optimize your listings and consider advertising on Easter-related keywords.
If your brand sells gag gifts, April Fool's Day is the perfect time to shine. Earth Day can benefit eсo-friendly brands, regardless of the products they sell.
Also, April is the perfect time to begin prepping offers and sales strategy for the back-to-school season.
April 1 – April Fools' Day
April 2-8 – Holy Week
April 7 – Good Friday
April 9 – Easter Sunday
April 11 – National Pet Day
April 22 – Earth Day
Holidays in May
In May, the top holiday for Amazon FBA sellers is Mother's Day. If you are selling products suitable for gift-giving to moms, consider adding "Mother's Day" keywords ahead of time to your advertising campaigns to increase their effectiveness.
May 5 – Cinco de Mayo
May 14 – Mother's Day
May 20 – Armed Forces Day
May 29 – Memorial Day
June Holidays and Key Dates
The beginning of summer starts with Pride Month. Therefore, pride attire, the rainbow flag, and other products celebrating gender identity will be popular.
Flag Day isn`t an official federal holiday, but many towns hold parades and events to celebrate the American flag. Use this opportunity for more sales merchandise, such as flags, apparel with national colors, and other items for a Flag Day Party.
After Mother's Day in May, you can also put Father's Day in your marketing plan.
June 1 – Pride Month begins
June 11 – Children's Day
June 14 – Flag Day
June 18 – Father's Day
June 21 – First day of summer
Q3 – National Holidays
July Holidays and Key Dates
Independence Day is an important holiday for the United States. Amazon sellers with products that sell well on this day should be ready for the Fourth of July holiday. Besides, July is generally known for warm weather, pool parties, and vacations. Analyze your product and set up ads for relevant products this hot month.
One of the biggest events of the year for Amazon FBA sellers is Prime Day! Though Amazon doesn't reveal its Prime Day dates until just weeks before, we predict it will occur in July. Nevertheless, almost all sellers can benefit from Prime Day. So plan ahead for discounts to ensure you don't miss out on all the excitement!
When Prime Day is over, it's time to start preparing for the biggest shopping event of the year: Black Friday & Cyber Monday!
July 1 – Canada Day
July 4 – Independence Day
July ? – Amazon Prime Day 2023
Key Date in August
The new school year is just around the corner, so it's time for parents and students to start their back-to-school shopping. If you own or manage a brand that provides essentials for students, such as backpacks, laptops, and other school supplies – be sure to optimize your listings with relevant keywords. Don't miss out on these fantastic opportunities!
August 14 – First day of school for many public schools around the United States
September Holidays and Key Dates
Sports brands, get ready! NFL jerseys, football party decorations, and sports memorabilia are flying off the marketplace like candy as the NFL season kicks off!
September is a quiet time before the fourth-quarter storm for many eCommerce businesses.
Additionally, September is the best time to prepare for the upcoming holiday rush. Amazon sellers should stock their products in Amazon's fulfillment centers, refine their listings, and devise offers for the holiday season.
September 4 – Labor Day
September 9 – begins of the NFL season
September 23 – First day of fall
Q4 Winter Holiday Shopping Season
October Holidays and Key Dates
The month of turkey, pumpkins, and scares is upon us. If you sell Halloween costumes or decorations, now is the time to boost your sales! Make sure your ads are well-optimized for Halloween.
October 9 – Indigenous Peoples Day/Columbus Day
October 9 – Canadian Thanksgiving
October 23 – First day of fall
October 31 – Halloween
October 31 – Last day to order inventory before Lunar New Year
November Holidays and Key Dates
Hot sales are starting! Amazon FBA sellers have prepared their inventory and marketing strategy for the best sales week of the year – BFCM (Black Friday&Cyber Monday).
Don't forget your inventory deadlines! You must ensure your products reach Amazon fulfillment centers before November 2 for Black Friday and Cyber Monday and by December 1 for the Christmas holiday season! Be ready for to holiday rush!
November 1 – Start of National Native American Heritage
November 2 – Amazon's deadline to get inventory to Amazon warehouse for Black Friday and Cyber Monday
November 7 – Daylight Saving Time
November 7 – Election Day
November 11 – Veterans' Day
November 12 – Remembrance Day
November 23 – Thanksgiving
November 24 – Black Friday
November 25 – Small Business Saturday
November 27 – Cyber Monday
December Holidays and Key Dates
Nothing compares to the Christmas season for most eCommerce businesses. The holiday sales continue through the entire month. During the winter holiday season, Amazon sellers can't only enjoy success with their most popular products but have a chance to move less popular products through big promotional sales.
If you have properly planned and prepared, all the hard work is in the past. Now it's time to bask in the rewards of your efforts.
December 1 – Amazon's deadline to get inventory into their FBA warehouses for Christmas
December 7-15 – Hanukkah
December 17 – Super Saturday
December 21 – First day of winter
December 24 – Christmas Eve
December 25 – Christmas
December 26 –Boxing Day
December 31 – New Year's Eve
How to prepare for key sales dates using analytics
Holiday sales prep begins with analyzing your current financial health and optimization. To avoid wasting time and getting the most up-to-date information about the current state of your brand, use the Analytics Software for Amazon – My Real Profit. You'll get full analytics of your sales and promotions in one window. Why do you need it? My Real Profit helps you understand the strengths and weaknesses of your business: which products generate revenue and which ones are just pulling money out, the profit per product, storage fees, and many other metrics. In addition, based on our analytics, you can offer a competitive price for the products to increase your sales. Prepare for each key selling date properly and you'll get the most out of it with the least effort.
Sign up for a 14-day free trial using the link below: LINK TO START A FREE TRIAL
Schedule a call for a demo: LINK TO SCHEDULE A DEMO
Many sellers focus on ranking, brand awareness, marketing efforts, finding new product niches, and driving more sales. These things are essential, but that's just the tip of the iceberg.
If you want to take your Amazon business to the next level and start seeing more profits, there are a few key questions that you need answers for. Knowing those answers is essential if you hope to reach success. What net income does your business bring in? How many expenses are there per unit of product? You have to calculate the cost of goods, operating and marketing costs, refunds, etc. How much profit do they bring in?
The answers to these questions help in calculating the total amount of money earned from selling products on Amazon – gross profit, operating profit, optimizing costs, and making strategically correct decisions.
Without competent accounting of all the expenses, profits, and comprehensive analysis, Amazon sellers cannot understand their real financial performance and how the different parts of the balance sheet affect each other.‍ Even minor unreported data can seriously affect key profit and loss metrics.
You must track essential metrics to produce the most precise profit and loss statement. In this article, we will explore those exact measurements necessary for success. We also show you how to reduce your time wasted analyzing financial performance to a minimum.
What Is a Profit and Loss Statement?
Profit and loss (or P&L) is a financial report that provides an overview of revenues, costs, and expenses of an Amazon seller's business over a specific period. The profit and loss statement provides the most comprehensive review of a seller's net income, generally known as the "bottom line."
This statement calculates profits or losses by subtracting total expenses from total income. For this, you need to overview your earnings and associated costs, including the cost of goods sold, fulfillment fees, PPC cost, refunds, and other expenses.
P&L statements can help identify areas where you need to cut costs, drive revenue growth, or optimize your pricing strategy. Additionally, it can provide valuable insights into trends in sales and expenses over time.
This p&l statement report lets you make informed decisions about your business strategy tailored to increase sales and maximize profits.
But in the case of Amazon sales, everything is more complicated.
The usual profit and loss statements are insufficient for a complete picture because some costs may be left out. Amazon is unique, and so should be the P&L approach. It takes some work to be accurate in your income and loss calculations. Let's dive into it and figure it out!
How can profits and losses be tracked?
The company's total income and expenses can be calculated using two methods:
The primary distinction between the cash and accrual methods is when transactions are recorded.
Accrual basis accounting
Sales revenue is reported on the profit and loss statements when the sale is made, often occurring before cash is received from customers. In other words, the Accrual method accounts for profits and expenses when the customer purchases your item, regardless of when Amazon pays you. This method is consistent with Generally Accepted Accounting Principles and is considered to present a more accurate picture.
Cash basis accounting
The cash flow statement records track the flow of working capital into and out of business during a period. Thus, the Cash method is based on when Amazon deposits money into your Amazon seller bank account.
Cash basis accounting cannot reveal the issues of declining organic sales or show the percentage of returns, while the accrual basis can.
The advantage of a cash report is its incredible simplicity. It can be done with one statement – a "Date Range" report, which shows your Amazon cash balance transactions. Here's a link to a video on how to easily do p&l by cash method using just one report: How to See Your True Amazon Profit.
Accrual and Cash methods are both necessary for sellers. But today we're going to talk about Accrual. It provides a more accurate picture of your business's profitability and helps Amazon sellers see the connection between marketing metrics and finances, while the cash method can not.
Read the article "What is the difference between Cash and Accrual reporting for Amazon Sellers" to learn more about accounting methods.
Required Metrics to Calculate Accrual P&L for Amazon Sellers
The purpose of the Accrual report is to show all the data when a customer has made a purchase. Accrual reports can combine financial and marketing analysis, making them valuable information for sellers. In Amazon business, marketing can be a double-edged sword – it's both the key to success and a quick way to drain profits.
To accurately estimate Amazon sellers' profits and losses, it is essential to consider an array of metrics.
On the income side, everything is simple: Item Sales. ("All Orders" report. Link: https://sellercentral.amazon.com/reportcentral/FlatFileAllOrdersReport/1)
On the Amazon costs side, these include:
These reports need to be properly combined in order to achieve a perfect accrual P&L report.
Besides Amazon fees, you need to include the cost of goods sold, which should include manufacturing costs, customs duties, freight costs, and delivery to FBA.
Most Amazon sellers track their profit and loss metrics using the Amazon Seller Central platform, which provides a breakdown of their sales, expenses, and profits. We recommend reviewing Amazon's key reports every month. Above, we already mentioned these reports. Now let's dive into each of them.
Amazon Sales ("All Orders" Report)
The "All orders" report is a crucial tool for sellers when it comes to calculating their profit and loss report. This report provides detailed information about every order, including the purchase date (which we need for the accrual basis reporting), selling price, shipping costs, and any discount/promo/coupon associated with the order. However, remember to exclude all canceled orders and non-Amazon orders.
Amazon Referral fee and Fba fulfillment fee
The "Fee Estimate" report refers to the estimated costs of selling a product on the platform, including fulfillment fee estimates and referral fees. It can help you calculate the shipping cost and referral fees per unit sold. The referral costs can vary depending on several factors, such as the product category and selling price. The FBA fulfillment fee depends on your product size and weight.
You can calculate the referral fee using the simple formula below.
Referral fee = (Sale price – Discounts) * Amazon Referral fee %.
Also, you can use a fee calculator tool to estimate your total selling fees, including referral fees, fulfillment fees, and storage costs. By estimating these fees upfront, sellers can better understand their profit margins and adjust their pricing strategies to ensure profitability.
My Real Profit provides an advanced profit calculator that uses your last 30 days' performance to break down your real profit per unit and help you make strategic decisions using real numbers.
Advertising costs
Advertising costs can be a major factor in determining the profitability of sellers. It is important to use the various types of ads available on Amazon, then calculate the associated costs and profits for each, and analyze the data obtained. Thus, to view all advertising expenses, you need some reports:
Sponsored Products – Advertised Product report

Sponsored Display – Advertised product report

Sponsored Brands/Video – Campaigns report
Alternatively, you can take the total amount spent on PPC from your advertising console if you don't require product-level analysis.
Date Range Report
The Date Range Report is a valuable tool for Amazon sellers who want to analyze their profits and losses over a specific period. This report provides detailed information about all transactions made within the selected date range, including sales, refunds, reimbursements, adjustments, and other fees charged by Amazon.
Through careful examination of this data, sellers can gain invaluable insights into their finances and identify areas where money may be slipping away. For example, the report can be used to help sellers recognize products with a high return rate or detect situations in which Amazon is charging them excessive fees.
FBA Storage Fee Report
The FBA Storage Fees Report provides detailed information about the storage fees charged by Amazon for storing a seller's inventory in its fulfillment centers. Examining this data can provide sellers with invaluable insights into their storage costs relative to the revenue they generate. This information can help them make informed decisions about what products to stock and how much inventory to keep on hand at any given time. Additionally, the report allows sellers to identify any discrepancies or errors in their storage fee charges and take corrective action if needed.
However, with FBA comes the possibility of customer returns. When a customer returns any product, the seller may incur fees for return shipping and processing. Customer returns can impact net sales and, as a result, the seller's profit and loss statement, which shows the financial performance of their business over a specific period. FBA sellers need to keep track of their returns and associated fees to assess their profit margins.
Read the article "Amazon Sellers Pay from 30% to 50% for Customer Returns from Their Own Pockets" to learn more about the true cost of returns.
For detailed analysis, we recommend reviewing the report monthly, as well as quarterly and annually.
Cost of goods sold
The cost of goods should include the manufacturing price, customs clearance, freight costs, and delivery from Amazon FBA. The final costs are often neglected and treated as a single united cost of goods in the P&L statement.
Accurate COGS are crucial when it comes to product level analysis. Make sure to calculate this number as precisely as possible. This is the most important factor in Amazon's analysis because we make all decisions at the product level.
Profit and Loss Statements Structure for Amazon Seller
In order to scan your p&l and get insights from it, you need to group expenses in a specific way.
1) Gross Profit = Sales – COGS – Amazon fees
The cost of goods and Amazon fees will always be a part of each sale. The gross profit metric will help you identify if your pricing or unit economics is financially healthy.
2) Gross after Refunds = Gross Profit – Refunds
It helps understand how refunds impact your profits. You use this metric to calculate organic sales profit margin. Just divide: Gross after Refunds / Sales = "Organic Sales Profit Margin"
3) Profit = Gross Profit – Marketing Costs (PPC, Coupons, Deals)
4) Amazon Net Profit = Profit – Adjustments/Reimbursements
Mostly adjustments/reimbursements will increase your profit. Therefore, it is important to know your sales profit and net profit, including transactions not related to sales, such as warehouse losses, damages, or other costs like subscriptions.
While you may have gotten a good overview of your business with the profit and loss statement, the balance sheet covers the rest of the picture.
My Real Profit calculates accrual P&L statements in real-time and even more features
But why do we need so many reports just to calculate Amazon profits? Aren't all these data supposed to be visible in payout reports from the Seller Central Account?
The problem is that the Amazon marketplace withdraws money from your account at a time that has nothing to do with concrete activity. For example, you will pay for the April storage fee in May. Amazon is charging your account for storage costs between the 7th and 15th days of the month to cover the storage fees for the previous month. Your PPC fees are charged after you spend every $500 instead what you actually spend for it.
Therefore, you can achieve a more accurate picture of the analysis only by using different reports.
My Real Profit goes even further. In addition to combining all this data, this analytics software calculates some costs in advance. For example, you can see daily storage costs because it calculates how much you will pay Amazon based on your FBA stock data. It pre-calculates Amazon fees for pending orders and allocates financial metrics with marketing performance. This approach makes it one of the most accurate financial tools for Amazon sellers.
Additionally, the software collects all the data on Parent and Child ASINs which are very difficult to track using default Amazon tools.
Vertical analysis of Amazon profit and loss statements
My Real Profit conducts a detailed analysis of the return percentage, total marketing costs, and organic/advertising sales ratio so that you can accurately see how much each expenditure contributes to gross profits. By understanding this dynamic relationship between expenses and revenue, your business will be positioned for long-term success.
My Real Profit makes a detailed breakdown of all hidden expenses, showing the true picture and helping you understand why your operating profit is what it is.
Now, it doesn't take long to compile a P&L statement with our Analytics Software. You have more available metrics and the opportunity to make informed decisions based on reliable and up-to-date information. All My Real Profit reports are updated every 30 minutes! We have put all your daily sales, marketing efforts, and financial performance information onto one page so you have a complete picture before you.
Ready to see what our demo has to offer?
Sign up for a free trial using the link below: LINK TO START A FREE TRIAL
Schedule a call for a demo: LINK TO SCHEDULE A DEMO
The COVID-19 pandemic has had a significant effect on the e-commerce industry, particularly on the Amazon marketplace. During the pandemic, many small and medium businesses turned to eCommerce to stay afloat during economic uncertainty. As one of the largest online marketplaces in the world, Amazon has experienced a surge in high demand for essential goods. As we know, demand creates supply! These changes have had a lasting impact on the eCommerce industry, with many experts predicting that online shopping will continue to grow in popularity.
Although it is now 2023, many trending products today are echoes of the changes that occurred during the pandemic. Firstly, it concerns the attitudes of Amazon shoppers towards e-marketplaces and best-selling Amazon categories.
Even though all stores are now available and there are no restrictions, shoppers appreciate the Amazon marketplace. With Amazon, shoppers can easily compare prices from different sellers in one place, get fast delivery of their orders, have a wide selection of brands, and enjoy special offers such as free shipping and discounts. Amazon also provides easy access to customer reviews so shoppers can make informed decisions before purchasing.
Sellers prefer Amazon because it provides access to millions of potential customers. The marketplace also allows sellers to set their pricing, store design and promotional offers. As a result, sellers can stand out from the competition and maximize their profits through competitive pricing and promotions. That is why hundreds of new sellers register on Amazon every day, experienced sellers strive to expand their assortment and raise their offers for the top-selling products on Amazon.
Let's look at the pros and cons of the popular and most profitable categories on Amazon.
Most Profitable Product Categories for SMB Sellers
If you're looking to find profitable product categories on Amazon, several key elements must be taken into account. The first thing to look at is popular categories that have the potential to provide high profits. Popular product categories include apparel, beauty products, home improvement items, electronics, toys and games, and books.
Second, it is also essential to consider a particular category and understand which sellers are rated. This can easily be done by looking at Amazon's Best Sellers list and seeing how those in that category are ranked.
When choosing to sell products, the important thing is to look for those that have a higher rating because they may have a higher sales potential. Amazon is highly competitive, so you need to evaluate your competitors and find ways to differentiate yourself from them. Keep in mind that this could be a deciding factor when potential customers are choosing between you and other Amazon sellers in the same category.
Finally, when selecting the most profitable product categories on Amazon, it is essential to consider factors such as selling price, customer service, shipping costs, and product quality. By considering all these factors, you can make an informed decision and choose a category and the best-selling product that is highly likely to be profitable for your business.
Clothing, Shoes & Jewelry
Amazon is now the biggest clothing retailer in the United States. The Clothing, Shoes&Jewelry category generates the most revenue for Amazon. If you're considering selling items within this lucrative space, be prepared to face off with stiff competition.
Clothing and shoes are always in high demand. Production or wholesale purchases of these goods are comparatively inexpensive, thus making them an excellent way to maximize profits.
Most of Amazon's sellers do not offer high fashion and luxury brands but prefer inexpensive and comfortable clothing designed for mass consumption. Based on Amazon's best sellers page, the best sellers in the category are mostly basic items such as underwear, casual wear, and Crocs.
The Apparel category has a huge number of brands with a wide variety of products. Therefore, selecting a product in this category without conducting thorough market and product research carries an inherent risk of not being competitive. By focusing on a particular group of customers, one can stand out and create a profitable brand.
The most popular sub-categories:
Women's Fashion

Men's Fashion

Girls' Fashion

Luggage & Travel Gear

Boys' Fashion.
Don't spread yourself too thin and sell everything; pay attention to one of the sub-categories wherein the competition is reduced at times, and the chance to stand out and make yourself known grows a lot. Let's look at the main pros and cons of the Apparel category.
Let's look at the main pros and cons of this category.
Pros
Wide target audience

Low cost of buying goods

High-profit margin

Easy to differentiate

Goods do not require special storage and shipping conditions
Cons
High competition

A high percentage of returns

Quickly changing trends

Difficult to predict market
Home & Kitchen
Home & Kitchen is the most popular category for those looking for profitable products. Almost a third of all SMBs have at least one product in this category. Kitchen utensils, cookware, furniture, and accessories are all popular items you can buy cheaply and resell at a healthy markup. It makes a lot of sense; even in hard times, people don't hesitate to purchase essential home goods. No wonder, then, that Home and Kitchen has been one of the most popular for years in a row.
The Home & Kitchen is the largest and most diverse Amazon category. It covers a wide range of best-selling products, from small kitchen appliances to furniture and home décor. With so many options available, customers can find everything they need to create a comfortable and stylish home.
5 most popular sub-categories:
Kitchen&Dining

Furniture

Bedding

Home Decor

Vacums&Floor Care
It's no wonder why Amazon shoppers keep coming back for more, with the unbeatable prices and unbelievably fast shipping options available through Amazon Prime membership. This category remains one of the most sought-after shopping experiences on the site!
The Home & Kitchen category can be an excellent selling category for beginners on Amazon. Thus, let's look at the pros and cons of this category.
Pros
High demand

Low cost of buying goods

Consistent sales. Most products don't have seasonality

High conversion rates
Cons
High competition

Most niches have low-cost products trends that require a large volume of sales

Difficult to differentiate as most products in this category are not innovative
Notice that the new sellers may struggle to get customers' attention unless they have a unique product or a great marketing strategy.
Beauty & Personal Care Products
Following Home & Kitchen, Beauty & Personal Care is the second most popular product category for SMBs. The popularity of this category among SMB sellers in 2023 has increased by 3% from last year, making up 26% of total platform sales. Amazon sellers continue to choose the Beauty & Personal Care category due to steady demand, a diverse product mix, and high profitability.
Shoppers need everything from skincare to haircare and makeup to personal hygiene products, so this category caters to a wide variety of customers. One of the main advantages of selling in this category is its consistent demand: consumers are always looking for high-quality beauty and personal care products, making it an attractive market for sellers.
Products for skin, body, hair, nails, and hygiene-related products are qualified for top-selling sub-categories on Amazon.
Additionally, many items in this category have a high-profit margin due to their premium pricing and brand recognition. However, competition is fierce in this market, with many established brands and new entrants vying for customers' attention.
To succeed in the Beauty&Personal Care category on Amazon, sellers should differentiate themselves by offering unique products or providing exceptional customer service. They also need to stay up-to-date with current trends and invest in effective marketing strategies that can help them stand out from the competition.
Below we will look at the main advantages and problems faced by the inexperienced seller
Pros
High repeat purchase rate

Low cost of buying goods

Small size of most products

High profitability

Low seasonality
Cons
High competition

Limited shelf life

Special conditions for storage and transportation

Mandatory certification for certain types of products

One of the most expensive advertising costs
Pet Supplies
Pet product sales are steadily increasing, with no signs of slowing down. The stable demand for pet-related products provides an incredible opportunity for retailers to tap into and expand their businesses. In 2021, Amazon's pet supplies sales climbed to $11.7 billion. No wonder, since nearly 80 million families in the U.S. have beloved pets.
People who own pets are often very attached and willing to spend money on their furry friends. This means there is potential for a high demand for specific products. Furthermore, many pet owners shop online to find unique or specialty items they cannot find at their local pet store.
Selling on Amazon is a profitable product category because new trends are constantly emerging in the pet industry, from eco-friendly products to high-tech gadgets for pets. Sellers who can capitalize on these trends and offer unique products have the potential to stand out from the competition.
Naturally, the most popular and best-selling products on Amazon are those for dogs and cats, followed by those for fish and aquatic pets, small animals, and birds. While there are certainly some advantages to selling products in this category, there are also some potential disadvantages to consider.
Pros
Broad customer base

Lots of small & light items

Low seasonality

Opportunity for innovation and creativity
Cons
High competition

Mandatory certification for certain types of products
If the new seller carefully considers logistics and quality control measures, he can successfully navigate this exciting and growing market.
Books
The Books category on Amazon is a popular and well-established one that has been around since the early days of the platform. This section encompasses a wide selection of books, from bestsellers to niche titles, making it an appealing choice for sellers aiming to access a vast customer base. Many people still prefer physical books over e-books, and Amazon's reputation as a reliable source of books means customers trust the platform when making purchases.
There are 36 subcategories in the Books category. You can sell anything from art and photography books to test prep books. The top five best-selling sub-categories include Children's Books, Specialty Boutique, Literature & Fiction, Christian Books & Bibles, and Arts & Photography.
Find a subcategory that is of interest to both you and your audience, and focus on it. Promote your products in this category using your Amazon product landing page, eCommerce websites, and social media to share more about the books you have.
New Amazon sellers should pay close attention to two particularly successful genres: epic adventure novels and children's books. A large percentage of these titles quickly sell out, and many come as part of a series, establishing loyalty and returning customers!
If the Books category appeals to you, weigh the pros and cons to be ready to compete and be at the top of the Amazon Best Sellers page.
Pros
Large number of loyal customers

Easy to store and ship

Low seasonality
Cons
Pricing competition

Unpredictable market

Fast-changing best-selling products

Increased popularity of e-books
Overall, while there are pros and cons to selling books on Amazon, it remains an attractive option for many sellers due to its established customer base and relatively simple logistics compared to other Amazon categories.
Toys & Games
Toys & Games are a lucrative market for sellers. This category includes a wide range of products, from simple rattles for a baby to classic board games and high-tech toys, making it multipurpose for infants and seniors alike.
Several factors contribute to the profitability of this category. One of the main advantages of selling items in the Toys & Games category is its consistency. Unlike other product categories that may experience fluctuations in demand throughout the year, toys and games tend to sell consistently well. This is especially true during the holiday season when gift-giving is at its peak.
With many sellers looking to grab customers' attention during holidays like Christmas or Black Friday, it's important to be organized and plan to meet customer needs.
Another reason Amazon sellers choose the Toys & Games category is that many toy and game products have high-profit margins. Most toys are made in China, and the purchase price is quite low, which allows sellers to get a high profit on each unit sold.
Around the year, there is a constant stream of new toys and games. Whenever a new Disney or Pixar movie is released, it is like an avalanche of must-have toys, games, and gadgets hit the market. When selling products in this category, be aware that children are the primary target audience. Sellers who can tap into current trends or offer unique products have the potential to stand out from the competition and command higher prices.
For better product ideas of what will sell best, Amazon publishes an annual Kids Gift Guide. In addition, any seller can use Amazon's best-selling toys and page as a good starting point for identifying top-selling items. This list of current best sellers is an excellent resource for finding the most popular items on Amazon.
If you decide to sell on Amazon in this category, you should consider that some products for children and toys require mandatory certification.
Pros
Low purchase price

High and consistent demand

Vast potential audience

Opportunity for innovation and creativity
Cons
A large number of bulky items

Mandatory certification

Large quantity of low-quality merchandise

Fast-changing trends
Electronics Category
Electronic products on Amazon are a highly competitive and rapidly evolving space. This category includes a wide range of products, from smartphones to smart home devices, making it attractive to customers with different needs.
One of the main advantages of selling electronics on Amazon is that it has a huge customer base. Many people turn to the Amazon marketplace to find new gadgets or tech-related products, meaning there is high demand for certain items. Additionally, many Amazon shoppers are willing to pay a premium for the latest technology or cutting-edge features.
As technology develops and progresses, new trends come to the fore. Those Amazon sellers who can spot these patterns, anticipate customer needs, and offer unique product ideas are sure to stand out in a crowded marketplace.
The profitability of the Electronics category is evident from the statistics. In 2020, sellers in this category earned an average profit margin of 20%, notably higher than other categories. This may be due to the high demand for electronic products and the lower commission fees charged by Amazon. Referral fees for most electronic items are only 8% which is the lowest compared to other product categories.
If you are looking to bring in substantial profits while selling products within this industry, your best bet is likely to source bulk merchandise from a well-known brand. Yes, it requires quite an investment upfront however, the payoff can be well worth it as these items are known for their high profitability!
Pros
Huge customer base

Lots of new and trendy products

Low Amazon referral fee

Limited lifespan of electronics

Low seasonality
Cons
High purchase price

Ensure high-quality products

Damage to goods during delivery

You compete with global companies
Handmade Products
The Handmade category is a lucrative market for Amazon sellers, as it typically offers a higher profit compared to other product categories available on the platform. With lower production costs and added value in the form of uniqueness, craftsmanship, and low competition, Amazon FBA sellers can expect a high-profit margin. Consequently, handmade products are an attractive option for those who have golden hands and looking to maximize their profits on Amazon.
However, it should be understood that selling handmade products in large volumes is difficult. It would require large production facilities and a well-organized advertising campaign.
Data is the Best Friend of Amazon Sellers
Choosing the right selling categories on Amazon is crucial for maximizing sales and reaching potential customers. Start with a wide-ranging topic and do in-depth product research. If the primary category that you consider is extremely competitive, don't fret! There is a chance that you will find a gap in the marketplace if you go deeper and look for new opportunities.
First of all, take the time to research the low competition area and determine which categories similar products are listed under. Consider factors such as customer demand, pricing, and unit economics to determine which categories are most profitable. It's also important to ensure that your product fits within the guidelines of the chosen category and meets any specific requirements or restrictions.
Additionally, consider using relevant keyword research in your product listing to improve search rankings and visibility within the chosen category. Don't be afraid to experiment with multiple categories and track your sales performance to identify which ones yield the best results. This will offer an interesting twist to your business and help keep customers engaged. If you take a strategic approach to selecting top-selling categories on Amazon, you can increase your chances of getting on the seller list and making your brand highly profitable.
Conclusion
Time spent conducting market research is the first critical step in determining the most lucrative categories to sell on Amazon. Focus on identifying and offering solutions to customers' pain points, as this will affect profitability far more than just choosing a popular category. To ensure maximum profits, you must use Amazon profit analytics and consider several factors, including niche selection, product choice, selling price, and cost of goods.
Creating and growing an online business on Amazon is a painstaking task that requires constant analysis and improvement. Analytics Software for Amazon can help you save time, do a lot of analytical work, and show you how to increase sales on Amazon.
My Real Profit software is easy to set up and use. Our analytics offers imperative insight into how listings your products in real-time and what you need to improve your position in the seller's rank. My Real Profit metrics will tell you why your sales are down and how to raise revenue based on real numbers. This makes this Amazon seller tool a necessary part of the daily routine for every seller.
Take advantage of a special offer from My Real Profit – a free trial of Analytics Software for Amazon sellers and get key product and marketing metrics right now.
Sign up for a free trial using the link below (no credit card required): My Real Profit FREE TRIAL
Global Amazon sellers constantly optimize their strategies and explore international markets, so the competition for sales is constantly increasing. Therefore, staying up-to-date with the latest changes in Amazon seller news is essential for maintaining a successful business. Here are some key trends and changes impacting Amazon sellers in 2023.
Amazon Sellers Fee Changes
Changes in sales fees can have a significant impact on sellers. Amazon regularly reviews its rates and may adjust them as needed, so sellers should stay informed about any changes to keep their Amazon business profitable. These changes may include order fulfillment fees, referral fees, or additional fees for special services such as storage, order processing, and more. All these changes can affect a seller's budget and potentially lead to increased costs if not managed properly.
Amazon FBA (Fulfillment by Amazon) is a program that allows sellers to store their products in Amazon's fulfillment centers, from which they can take advantage of numerous benefits. These include access to Amazon's customer service and logistics network, free shipping for orders shipped within the U.S., reduced shipping rates for orders going overseas, faster delivery times, simplified returns processing, and reduced supply chain disruptions. Additionally, by using the Amazon FBA program, brand owners can increase brand awareness and achieve a higher ranking in the search results, as their products will be listed at the top.
Amazon is a preeminent force among eCommerce platforms, attaining its stature primarily through fostering an efficient environment for commerce and shopping. It has become an essential resource for those looking to buy or sell items online, providing brand owners with cost-reducing services and programs for storing and shipping goods.
FBA Storage Fees
Since early January 2023, Amazon FBA sellers have seen a continuous rise in prices.
· The monthly off-peak storage fee (January to September) grew by 3–4 cents per cubic foot. Peak storage fees (October to December) grew by 20 cents per cubic foot for its non-sortable network.
· Since February 17, FBA outbound fee rates have increased by an average of $0.22.
· Starting on April 1, 2023, sellers with a higher relative storage cube of stock than their recent weekly sales will be subject to an overstock penalty. This penalty is for Amazon sellers who have worsened inventory or sales levels.
· Amazon will increase the surcharges applied to inventory stored between 271-365 days, effective April 15, 2023.
· Starting April 15, 2023, Amazon will impose a surcharge on items held in stock for 180-270 days. This does not apply to products in apparel, shoes, bags, jewelry, and watches categories.
Besides, Amazon introduced a new FBA capacity limit to optimize inventory management. They have combined restocking and quarterly storage limits into one monthly metric – the FBA capacity limit. This new limit determines how much inventory can be stored in FBA centers.
For more information about FBA Storage Fees, visit Amazon Seller Central.
FBA Fulfillment Fees
Amazon Fulfillment Fees are the charges imposed on sellers for using Amazon's services to fulfill customer orders. This service includes everything from picking, packing, and shipping goods to providing customer support and managing any returns. The fulfillment fee is calculated per unit of product sold.
The shipping weight for all large standard and oversize items (excluding special oversize items) is determined by taking the greater of the unit's actual weight or its dimensional weight.
FBA fulfillment fees (non-apparel)
Amazon charges FBA fulfillment fees ranging from $3.22 for small standard items to $158.49+ for special oversize non-apparel items. The following table enumerates the exact Amazon seller fees in detail.
FBA fulfillment fees (apparel)
Amazon charges an FBA fulfillment fee ranging from $3.34 for small standard items to $158.49+ for special oversize apparel items. The following table enumerates the exact Amazon seller fees in detail.
Fulfillment fee changes for dangerous goods
As this category of products requires special handling during packing and shipping,
the cost per job will be higher for Amazon sellers. Dangerous goods fees vary from $4.19 to $179.28+ depending on the product's shipping weight.
For more information about FBA Fulfillment Fees, visit Amazon Seller Central.
Amazon small & light increased the maximum price to $12
Selling all sorts of "little things," low-cost and small items, is incredibly profitable. Due to recent changes, the Small and Light program has become more accessible to more Amazon sellers. First, the item price for eligible products increased from $10 to $12 or less. Second, the size tiers have been adjusted:
small standard and large standard 1 lb and under is divided into 4 oz increments;

large standard over 1 lb is divided into 0.5 lb increments.
Unit fees are based on the weights and dimensions of products. Please note that larger standard-sized units will use a larger unit weight or volume weight, whereas smaller standard-size units will use the unit weight.
Test your products for compliance to get more profits. Your product qualifies for the Small and Light program if it has the following characteristics.
If Amazon sellers explore new markets, build brand loyalty, and expand the reach of their product lines, the Small and Light program is the ideal tool for boosting Amazon's business.
Each Amazon seller must be ready and dynamic in responding to all price swings and changes in Amazon's pricing policy. The price of your product should remain competitive but not unprofitable. Amazon is creating a comfortable retail environment and offering many FBA services to reduce checkout costs, increase customer loyalty, enhance scalability, and enable multi-channel selling.
Analytics software for sellers can help you find the right program for your product to make data-driven decisions. My Real Profit is an easy-to-use analytics solution for Amazon sellers that displays all hidden costs in a single table and provides key insights which can help you constantly optimize your product costs and drive sales. My Real Profit focuses on Amazon sellers' profits and reduces the manual labor involved in running an online business. The advantage of this software is that it automatically tracks all fee changes, and you can instantly see how these fee changes impact your profits. My Real Profit allows sellers to focus on other areas of their business.
PPC product analytics for Amazon sellers
Amazon ads are growing at an incredible rate. Over the past few years, Amazon has become the third digital advertising company after Google and Meta and the first among other eCommerce platforms.
If you want to succeed on Amazon in the coming years, a comprehensive Pay-per-click (PPC) management strategy is essential. Amazon's PPC enables brand owners, agencies, and third-party sellers to create ads for their products using target keywords that appear in search results and other product listings. With this feature, companies are better equipped to reach and convert more customers with their products.
PPC product analytics is a must-have report to be used by any seller on Amazon in 2023. These reports provide valuable information about the product's performance and where opportunities for optimization exist. Sellers can use this data to make Amazon advertising budgets, manage rates, adjust keywords and phrases, and decide whether a product needs rebranding or additional marketing efforts.
Search Query Performance
Amazon's Search Query Performance Tool (SQPT) is an invaluable service for sellers to optimize their search visibility. Using the SQPT, Amazon sellers can set specific parameters such as target keywords, price range, and customer rating preferences that enable them to optimize their campaigns accordingly. Additionally, they can monitor impressions and click-through rates to gauge the success of individual terms or phrases.
Another key feature of the SQPT is its ability to monitor trends within data sets. It allows users to identify changes in user behavior over time which could indicate potential opportunities for increased efficacy and better ROI performance from campaigns. With this new feature, sellers can develop more comprehensive marketing strategies tailored to their unique product offerings and customer segments.
Mobile App sessions
The global population is shifting increasingly towards mobile devices and tablets for online shopping, and all Amazon sellers need to keep up with these trends to remain competitive. With powerful functionality, Amazon Mobile Sessions furnishes retailers with invaluable information to improve their offerings for mobile users.
Amazon sellers can track customer behavior across platforms such as smartphones, tablets, and other devices, using app Sessions breakdown data. Sessions data also allows marketers to analyze data collected during mobile customer visits to determine how to optimize product content to increase conversions on mobile devices.
According to data from the 2019 E-commerce Year in Review infographic, 63% of traffic to retailers and 53% of sales happen via mobile. Mobile productivity on marketplaces only increased in 2023. That is why optimizing your content for mobile devices should be a priority. Make sure your Amazon store and offers are formatted correctly for these users, so you do not miss out on any potential.
Sponsored brands attributed products report
The world is moving towards globalization, and this trend has been reflected in digital marketing. Amazon advertising companies are not meeting the needs of major brands and medium-sized businesses have the potential and desire to drive sales and revenue. That is why most brands' advertising campaigns have moved beyond Amazon, using multiple channels (Google, TikTok, YouTube, Facebook and Instagram, and other social media sites) to deliver marketing messages and offers.
The Sponsored Brands Attributed Products Report (SBA Report) can provide Amazon sellers with valuable insights regarding their ad spend. The report tracks the performance of sponsored product ads, CPC, and overall sales for each product listed. With this data, sellers can make informed decisions on which products to continue investing in, which ones to reduce their advertising costs on, and how to optimize their campaigns to generate more revenue. Sellers must track data regularly to stay competitive and increase sales.
Amazon Attribution is available to professional sellers, vendors, and brands registered with Amazon Brand Registry, as well as agencies that have clients selling products on the platform.
In 2023, the SBA Report will be even more valuable, providing data-driven insights into how well products are selling across different channels and identifying prime early access sale opportunities for Prime members.
Amazon Inspire
To keep up with the fast-growing trend of short-form videos on social media platforms like Facebook and Instagram, Amazon has unveiled a new feature – called Amazon Inspire – that enables customers to access similar content within its Shopping app.
Amazon Inspire is a convenient new feature within the Amazon Shopping app, providing customers with a unique combination of videos and images tailored to their interests. It allows buyers to access content from brands and influencers in one feed. Brands also benefit from this platform because it gives them to attract the attention of more potential customers to their products.
Conclusions
Follow the latest Amazon seller news and key trends to stay on track and pump up your Amazon store. Amazon offers a wide range of services to help small&medium businesses and major brands to make their mark in the eCommerce space.
To be on top of Amazon sellers in 2023, you should familiarize yourself with Amazon's business model and the latest tools available for sellers. The efficient use of app Sessions, SBA reports, Amazon Inspire, and other Amazon features will help you gain insights into customer behavior and take your business strategy to the next level. Use these tools and stay abreast of changes in the Amazon business.
If you do not know how to boost your Amazon sales, optimize your product detail page, have no time to collect and process all the Amazon reports, need full real-time analytics for every product, and this information is not available on Seller Central – use My Real Profit Analytics Software for Amazon sellers.
The automated software provides objective and accurate data based on dozens of reports that update every 30 minutes. My Real Profit gets metrics that give insights into business performance and allows Amazon sellers to explore new strategies to help them stay ahead of the curve, including expanding into international markets and bringing their brand to new eCommerce platforms.
Sign up for a free trial using the link below (no credit card required): My Real Profit FREE TRIAL
Amazon is the largest e-commerce marketplace in the U.S. It sends 18.5 orders per second or 1.6 million packages worth over $385 million daily. Whether you are a newbie or an experienced seller, everyone wants to know the same thing: how to increase sales on Amazon.
It may seem difficult to get your Amazon store to the top of the search results, but there are several measures you can take to boost sales. Here are a few tips you can use to maximize your sales on Amazon.
Optimize your product titles and descriptions
It is easy to make an Amazon seller account, but it is not enough to have a lot of orders. You have to be sure that your product titles and descriptions are perfect. Optimize them with relevant keywords to ensure better search engine results. Create a title that speaks for itself, interests your buyers, and makes them want to click on the link.
You can use a simple formula to create impactful titles based on Amazon SEO: your brand name + product name + product features (material, purpose/size/quantity/color, etc.)
Amazon's search algorithm gives more importance to the keywords in your title than product descriptions, bullet points, or any other text. Try to include as many relevant keywords in your product titles as possible without compromising readability. It is essential to include consumer-focused search terms in your Amazon listings so they appear in the top results. Analyze your product title and optimize your keywords, as a result, potential customers will notice your product, and this will increase your organic ranking.
Offer a competitive price
Amazon has about 2 million third-party sellers who want to keep customers interested and sell more. You need to keep track of the average selling price, including discounts on each product. You can do it easily with a specialized program and repricing tool.
Offer the best price or send Amazon promotions to high-value shoppers to stand out and be competitive. It makes buyers feel happy to realize they have saved even a few cents. At the same time, you may get more sales, more loyal shoppers, and increase your ranking. If your product prices are higher than your competitors, it is important to have a valid reason, such as extra features or positive social opinions, like reviews.
It is critical to establish a presence on the first page of results if you want to be successful with your online business. Investing time in crafting an attractive and well-priced listing can pay dividends and increase sales.
Invest in high-quality photography
The first thing a customer sees from Amazon is a photo, and the entire fate of that product depends on its kind. Research has shown that around 80% of shoppers found product images and photos 'very' and 'extremely' influential in their online purchasing decisions.
High-quality images and videos should show your product from various angles and lifestyle images, allowing your buyers "to touch" products and form the most accurate idea of what they will get out of the deal.
Spend a little time and money on creating quality visual content. Good photos will help increase the conversion rate, reduce the cost of traffic, have fewer dissatisfied buyers, and stand out from the competition.
Generate more reviews for your product listings
Good account health and useful metrics, such as high customer satisfaction scores, help Amazon's algorithm recognize you as an authoritative seller and elevate your product's visibility.
Reviews can make or break your business, so keep in mind an essential rule of e-commerce: buyers love other buyers. Established reviews from verified customers can boost the trustworthiness and credibility of your online business.
Not all shoppers are ready to leave product reviews but do not stop gently nudging and asking them to leave reviews after their purchase. The number of positive reviews is a powerful argument for your target audience to click "Buy Now."
Take advantage of Amazon's advertising to generate more sales
In the U.S., more than two billion visitors come to the marketplace every month. Boost your visibility on the platform by using advertising. Investing in advertising options such as Sponsored Products Ads and Lightning Deals will get your products in front of more people.
It is almost impossible to increase your product sales and profits aggressively without advertising on Amazon. But you must be careful – Amazon ads can bring a lot of sales, as well as a lot of losses. Constantly monitor your advertising metrics to prevent advertising from putting you in the red.
When selling products on Amazon, it is important to have a Brand Registry in order to ensure success. This registry allows marketers and brands to protect their intellectual property, as well as control their product listing content. It is an essential tool for safeguarding brand identity and increasing channel performance.
Build the right marketing strategy to appear at the top of search results pages.
Drive traffic using social media marketing
Traffic outside of Amazon is becoming increasingly popular for boosting sales on Amazon. In 2023, it will be mainstream. Social media marketing has a positive effect on organic product positioning. Moreover, Amazon provides sellers with a discount on referral fees if the traffic comes from an advertising channel outside of Amazon. There is one caveat – you must properly link external advertising channels to Amazon.
Increasing external traffic to your store using social media marketing is a great way to boost visibility and product sales. Identifying the right platforms for your business, creating and sharing content that resonates with customers, and utilizing sponsored ads are key steps in launching an effective social media campaign.
Stay active and respond in comments or messages with social media followers – it helps to build relationships and encourage those customers to convert.
Don`t forget to monitor the performance of each post on social media accounts. This will give you valuable insights into what works so that you can modify future PPC campaigns and maximize ROI. Social media marketing is a powerful tool—use it wisely to drive more traffic to your store!
Win the Buy Box
Amazon is a competitive marketplace. Having an offer in the Buy Box is essential for success on Amazon, as more than 80% of sales originate from this coveted position.
The criteria for selecting a Buy Box winner are based on a combination of factors: product price, FBA sales, seller feedback, reviews, and Amazon sales history. To win the Buy Box and maximize profits, it is essential to have an offer that stands out from the competition.
Furthermore, monitoring your competition's pricing and responding quickly to changes can help you maximize your chances of obtaining and maintaining the Buy Box. With a strong presence in the Buy Box, you can guarantee that more customers find and purchase your product listings!
Don`t break Amazon's rules and terms of service
Follow Amazon's rules, policies, and guidelines, it will make your life easier. If you do not want to ruin your business, make sure that you comply with the rules and regulations set forth by Amazon. Otherwise, you risk having your account suspended or being shut down completely.
Automated Software
Starting or even growing a business in a highly saturated marketplace can be intimidating, especially if you have no idea where to start. Automated software can simplify your daily tasks. We recommend using automated analytic software that can help you track profitability and performance metrics in real-time, such as My Real Profit.
My Real Profit is an easy-to-use software for Amazon sellers. It provides clear profitability insights into your Amazon business, as well as for each product you sell. The software combines 15 reports in real time to build accurate analytics. There is a free trial period, so you can try how My Real Profit can help your business increase profitability.
Sign up for a free trial using the link below: My Real Profit FREE TRIAL
As an amazon seller, it is essential to understand your amazon 1099-K report and how it is calculated. This report will show the number of gross sales collected by amazon and can be used for tax purposes.
You should download the relevant reports from your Amazon Seller Central account to verify that the numbers are correct. This blog post will explain everything you need to know about the 1099K report for amazon sellers!
What is a form 1099-K?
A 1099-K report is a form that amazon or any other e-commerce marketplace uses to report sellers'  gross sales to the  Internal Revenue Service. This report is different from a 1099-misc, which amazon also issues.
The 1099-K only reports sales processed through amazon accounts, while the 1099-misc reports other income such as interest and dividends. According to IRS regulations, any third-party payment provider must provide such reporting. Same with amazon payments.
Form 1099-K is used to report all customer payments through Amazon to IRS.
Who is eligible for a 1099-K form?
Amazon will send a 1099-K report to any amazon seller who meets certain criteria:
Has a US mailing address on file in their amazon seller account

Form 1099-K is only issued to Amazon Sellers who made over $20,000 in total sales or 200 transactions.
When is a form 1099-K issued?
The 1099-K report is issued by amazon yearly. Amazon's due dates to issue the report is no later than January 31, 2023.
What information is included in a form 1099-K?
The 1099-K report includes the following information:
Your name and address

Tax information (TIN, EIN)

The amazon marketplace, where the sales took place

The total amount of gross sales processed through amazon, including sales tax

The total number of transactions processed through amazon
Where can I download my form 1099-K on Amazon?
If you want to download a detailed report of the 1099-K form, you can do so by going to your amazon seller central account and navigating to the 'Reports' tab.
From there, you should select the 'Tax Document Library' link. This will take you to a page where you can download form 1099-K.
What accounting method is used in form 1099-K?
Both cash and accrual basis. You can use it for your tax report.
How is that possible? You instantly receive money from a customer after invoicing him (no date difference between cash and accrual methods) to your Amazon account.
Just imagine that your amazon account balance is like a bank account, but the money is just on hold for 14 days.
Where can I download the detailed report that includes all 1099-K form transactions?
The 1099-K form is built from the Date Range Report. Double-check all the info at your seller central (Reports -> Payments -> Date Range Report).
How is the form 1099-K calculated?
The 1099-k form is calculated using the total unadjusted gross sales for the reporting year. Generally, it is what you get from your client, including collected sales tax.
Calculation:
Product Sales + Shipping Credits + Gift Wrap Credits + Sales Tax – Promotions
What is missing in form 1099-K?
Any expenses or costs of goods sold that are happening to your amazon account, such as refunds, fba shipping fees (for amazon fba), commissions (amazon selling fee), storage fees, PPC costs (online advertising), etc.
Also, the form 1099-K  form includes sales tax. Keep an eye on having it deducted when filing taxes. In another way, you will overpay taxes as sales taxes increase your profit, but it is not considered income.
The form 1099-K includes unadjusted total gross sales, including sales taxes, and doesn't include amazon shipping costs, selling fees, storage fees, etc.
What should I do if I didn't receive a 1099-K form?
If you didn't receive your 1099-k report from amazon by the due date, you should contact amazon seller support. They will investigate and resend the report to you if necessary.
What if my information is wrong on the 1099-K form?
If you believe the information on your 1099-k form is incorrect, you can contact seller support, and they will investigate the issue.
Conclusion
It is essential to take all the fees Amazon charges you into account when preparing your taxes. 1099-K only reports sales processed through amazon and doesn't include other income sources such as interest or dividends.
If you have any questions about the 1099-K form or amazon seller taxes in general, please reach out to us; we'd be happy to help!
About My Real Profit
My Real Profit helps you track your Sales and Profits during the year every day. It has fully automated financial analytics that shows you all the needed data to track business performance and turn insights into actions.
Schedule a call for a demo: LINK TO SCHEDULE A DEMO
Sign up for a free trial using the link below: LINK TO START A FREE TRIAL
If you are an Amazon seller running an Amazon store or a business on any other e-commerce platform, it is essential to track your key performance indicators (KPIs) to ensure that you are profitable and on track for success.
This blog post will list 20 of the most critical KPIs you need to track to measure your business performance and its financial health. We will also provide a detailed explanation of each KPI so that you can understand how it impacts your business. Let us get started!
Sales KPIs
Organic Sales %
This KPI tracks the percentage of your total sales that come from organic traffic (i.e. non-paid traffic). To calculate this KPI, simply take your total sales and subtract ad sales and divide it by your total sales.
Organic Sales % can help you track your SEO effectiveness and how strong your keyword positions are.
Organic Sales % = (Total Sales – PPC Sales) / Total Sales * 100%
Average Purchase Price (APP)
This KPI tracks the average amount people spend purchasing your product. To calculate this KPI on Amazon, divide the total sales by the number of orders.
Average Purchase Price can help you to track the average order value and ensure that your product is priced correctly.
APP = (Total Sales – Discounts) / Tota Units Sold
Sales Velocity
This metric tells you the average number of sales per day over a given period. To calculate this, take the total number of sales over a particular time and divide it by the number of days in that period.
Sales Velocity can help you to track the dynamics of your daily business sales and ensure that it is not lowering. Also, sales velocity is very helpful when you do inventory planning.
Sales Velocity = Total Units Sold / Days
---
Advertising KPIs
ACoS, RoAS, and TACoS
ACoS (advertising cost of sale)
To calculate ACoS, divide your total ad spend by your total ad sales.
ACoS = PPC Spend / PPC Sales * 100%
RoAS (return on ad spend)
To calculate RoAS, divide your total ad sales by your total ad spend.
ROAS = PPC Sales / PPC Spend * 100%
TACoS (total advertising cost of sale)
To calculate TACoS, divide your total ad spend by your total sales.
TACoS = PPC Spend / Total Sales * 100%
PS. TACoS, Total ACoS, Total Advertising Cost of Sales, ACoTS – the same metric 🙂
All these 3 amazon kpis can help you understand how much you're spending on ads and whether or not that spend is resulting in a profit.
Break-Even (BE ACoS, RoAS, TACoS)
Break-Even ACoS/RoAS/TACoS is the line between profit and loss in advertising: you will either start making or losing profit from advertising.
BE ACoS & TACoS = Product Profit Margin %
BE RoAS = Profit Per Unit in $
Read also: How to calculate your product profitability
Click Through Rate (CTR)
This amazon KPI tracks the percentage of people who see your ad and click on it. To calculate this KPI, divide the number of clicks on your ad by the number of impressions.
This KPI can help you track your ads' effectiveness in getting people to click on your ad and understand if you picked the right audience for your product.
Click Through Rate (CTR) = Clicks / Impressions * 100%
Cost Per Click (CPC)
This amazon KPI tracks the average amount you're paying per click on your ad. To calculate this KPI, divide your total ad spend by the number of clicks on your ad.
This KPI can help you understand how competitive the keyword is (higher CPC -> more competition for showing an ad), track the cost of your ads, and make necessary adjustments to ensure that you're profitable and fit the budget.
CPC = Ad Spend / Clicks * 100%
Advertising Conversion Rate (Ad CVR)
This amazon KPI is essential for any amazon seller. Advertising conversion rate is the case also. It is the percentage of people who make a purchase after seeing your ad. To calculate this KPI, divide the number of conversions by the number of clicks.
A conversion rate can help you understand how "attractive your listing" is and if you picked the right audience for your product.
Advertising Conversion Rate (Ad CVR) = Total Ad Orders / Clicks
Cost Per Action (CPA)
This amazon KPI tells you how much money you need to invest into PPC to get a conversion (sale). To calculate this amazon KPI, divide your total ad spend by the number of sales.
This metric is important because it allows you to track the cost per purchase and use it for your future unit economics (product profitability).
Cost Per Action (CPA) = Total Ad Spend / Ad Orders
Discount Redemption Rate
If you offer discounts or coupons, this KPI tracks the percentage of people who redeem them.
To calculate this amazon KPI, divide the number of redemptions by the total number of coupons or discounts offered. This KPI is important because it allows you to track your discount campaigns' effectiveness in getting people to purchase your product.
Discount Redemption Rate = Number of Redemptions / Total Units Sold
Coupon usage average statistics ($20 product, home&kitchen category)
Coupon: 1 – 5% | Usage rate: < 35%
Coupon: 6 – 9% | Usage rate: 45%
Coupon: 10 – 14% | Usage rate: 55%
Coupon: 15 – 20% | Usage rate: 60%
Coupon: 21% + | Usage rate: 70%
Why do you need to track it?
If the usage rate is higher than your category average, you are underpricing your product, and you can decrease coupons by x% without seeing a big difference in sales velocity.
Also, remember that for every coupon redeemed, you pay Amazon $0.6 each.
All these amazon kpis will help you keep an eye on advertising performance. We recommend tracking these KPIs on the brand, portfolio or campaign level as well as on the ASIN level.
My Real Profit offers advanced advertising reporting that shows you all KPIs above and even more.
Check out our advertising reporting: the advertising report demo
Operation KPIs
Refund Rate
This KPI tracks the percentage of orders that are refunded. To calculate this KPI, simply divide the total number of refunds by the total number of orders. This KPI is important because it ensures that you provide a quality product and track a defect rate and customer satisfaction.
Refund Rate = Total Returns / Total Units Sold
Return on Investment (ROI)
This is one of the most critical amazon key performance indicators that track the profitability of your business. To calculate this KPI, take your profit and subtract by COGS (product cost, delivery from china, etc.).
This amazon KPI can help you see how much money you earn on each dollar invested into inventory. We recommend tracking these amazon KPIs on the brand level as well as on the ASIN level, especially during scaling, as it directly impacts your business growth.
ROI = (Profit / Product Cost (landed)) * 100%
Out of Stock Rate (OOS %)
This amazon KPI tracks the percentage of time that your product is out of stock. To calculate this, take the total number of days your product was out of stock and divide it by the total number of days you were selling it.
This KPI is important because it allows you to track inventory levels and ensure that you are not losing sales due to being out of stock and helps you improve your inventory management processes.
OOS % = Days Out of Stock / Total Days
Inventory Turnover Ratio
This KPI tracks how fast you're selling through your inventory. To calculate this KPI, divide the cost of goods sold by your average inventory.
This KPI is important because it allows you to track your inventory management efficiency and your primary business asset performance.
Inventory Turnover Ratio = Cost of Goods Sold (landed costs) / Inventory Cost
---
Customer Behavior
Conversion Rate (CVR)
This amazon KPI tracks the percentage of sessions to your listing who take the desired action – a purchase.
To calculate this amazon KPI, simply divide the number of orders by the total number of sessions. This KPI is important because it allows you to track the effectiveness of your listings in converting visitors into customers.
CVR = Total Orders / Sessions (Product Detail Page Visits)
You can use Business Reports to track your sessions and conversion rates by account.
If you want to track it by item level, you can check: My Real Profit
Reviews Per Unit
This metric tells you the average number of reviews that your product has. To calculate this, simply divide the total number of reviews for your product by the total number of units sold. This metric is important because it allows you to track customer satisfaction and ensure that you provide a quality product.
Reviews Per Unit = Total Reviews Gained / Total Units Sold
Add-to-Cart Rate (ATC Rate)
This KPI tracks the percentage of sessions where a product is added to the cart. To calculate this, take the total number of items added to the cart and divide it by the total number of sessions.
This KPI is important because it allows you to track customer engagement with your product and understand what percentage of your customers are churning and how likely they are to purchase it.
You can track your Add-to-cart rate using brand analytics reports.
ATC Rate = Total Add-to-Carts / Sessions
(Bonus) Amazon business KPIs
Buy Box %
For sellers on Amazon, the Buy Box is the box on a product detail page where customers begin the purchase process by adding items to their shopping carts. A seller must be "Winning" the Buy Box to have their offers visible when customers add items to their shopping cart.
The Buy Box share metric tells you what percentage of the time your offers are visible in the Buy Box vs other sellers' offers.
You can use Business Reports to track your buy box percentages.
Inventory Performance Index (IPI)
This metric is a number from 0 to 1000 that measures how well you sell on Amazon. If your IPI falls below 350, then Amazon will limit how much inventory you can send.
Account Health Rating (AHR)
The Amazon Account Health Rating (AHR) is a feature that monitors your compliance with Amazon's selling policies. Adherence to these standards is based on factors such as unresolved policy violations within a given time.
Professional sellers can currently access this information in their seller central account. Although always subject to change, it is evident that Amazon wants its sellers to maintain healthy accounts according to their guidelines. A few recent refinements have been made regarding how you can monitor your account health, but more updates will come from the retail giant soon.
Wow, that's a lot of metrics… Any automated solutions that can help me?
You can use My Real Profit to get all the analytics in just a few clicks. It will automatically take all your data safe from amazon and create a dashboard with KPIs data and a product dashboard with detailed information on your expenses, metrics, and profit margins.
It is a must-have for tracking your amazon KPIs
Schedule a call for a demo: LINK TO SCHEDULE A DEMO
Sign up for a free trial using the link below: LINK TO START A FREE TRIAL
E-commerce business sounds like a very lucrative business model, especially with Amazon. It handles all your deliveries and returns of your products. There are no limits to scalability.
Thanks to Amazon FBA, you will be confident that everything is delivered on time regardless of the number of units sold. Nevertheless, using Amazon FBA includes many costs associated with this business model.
To increase profits, amazon sellers need to keep an eye on their profit and loss, reporting tracking as much amazon data as they can.
Let us do a detailed breakdown of how you should calculate your Amazon profit and what amazon seller fees you should include for true profitability calculation.
Profit calculation formula:
Amazon sales –
Cost of Goods Sold
Amazon Fees (Referral Fee, FBA fee, Storage Fee)
Refunds
Discounts/Promotions
PPC costs
Other Amazon Fees (Adjustments, Removals)
= REAL AMAZON PROFIT
---
Two possible methods of Amazon profit calculation:
Cash Method.Cash Method is based on when Amazon deposits the money into your Amazon account and, every 14 days, makes transfers to your bank account (disbursements).
Accrual Method.Accrual Method is used when the product customer purchased your item, regardless of when Amazon paid you.
The main difference between these methods is timing.
Which method should you use for your business?
The answer is accrual. We highly recommend using the accrual method, as it provides a more accurate picture of your business's profitability. And here is why:
---
Let us compare sales and ad spend on the current payout vs. other seller central reports.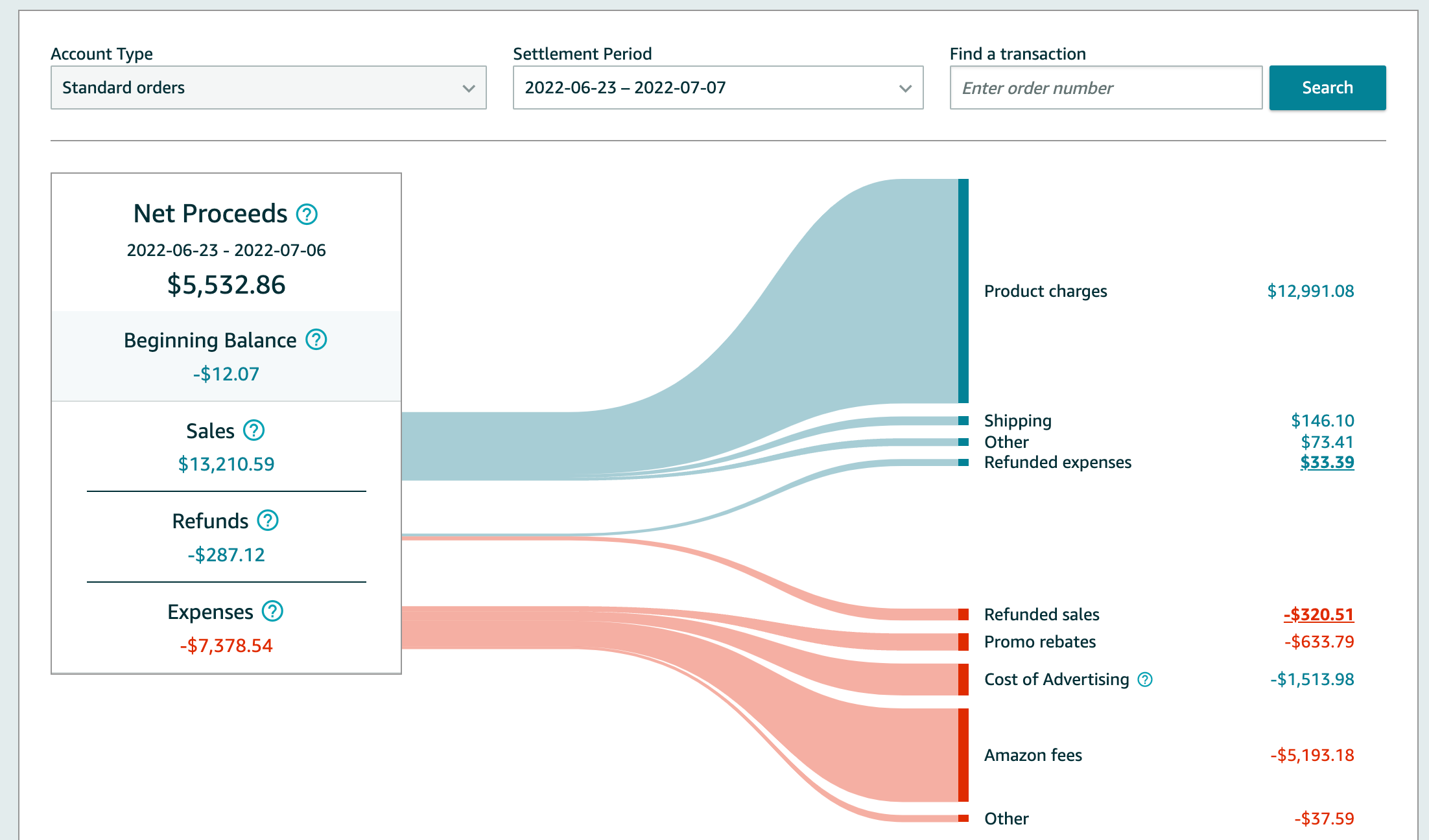 PPC Spend and Advertising Sales Data
As all Amazon sellers, you focus on PPC and keep track of your sales correlation to your marketing budgets. Amazon advertising console shows you ad spend and sales based on an accrual basis. Let's compare it to the amazon payout.
On the disbursement report, amazon charged our account for $1,5k while, in reality, for the selected period, we spent $1,9k.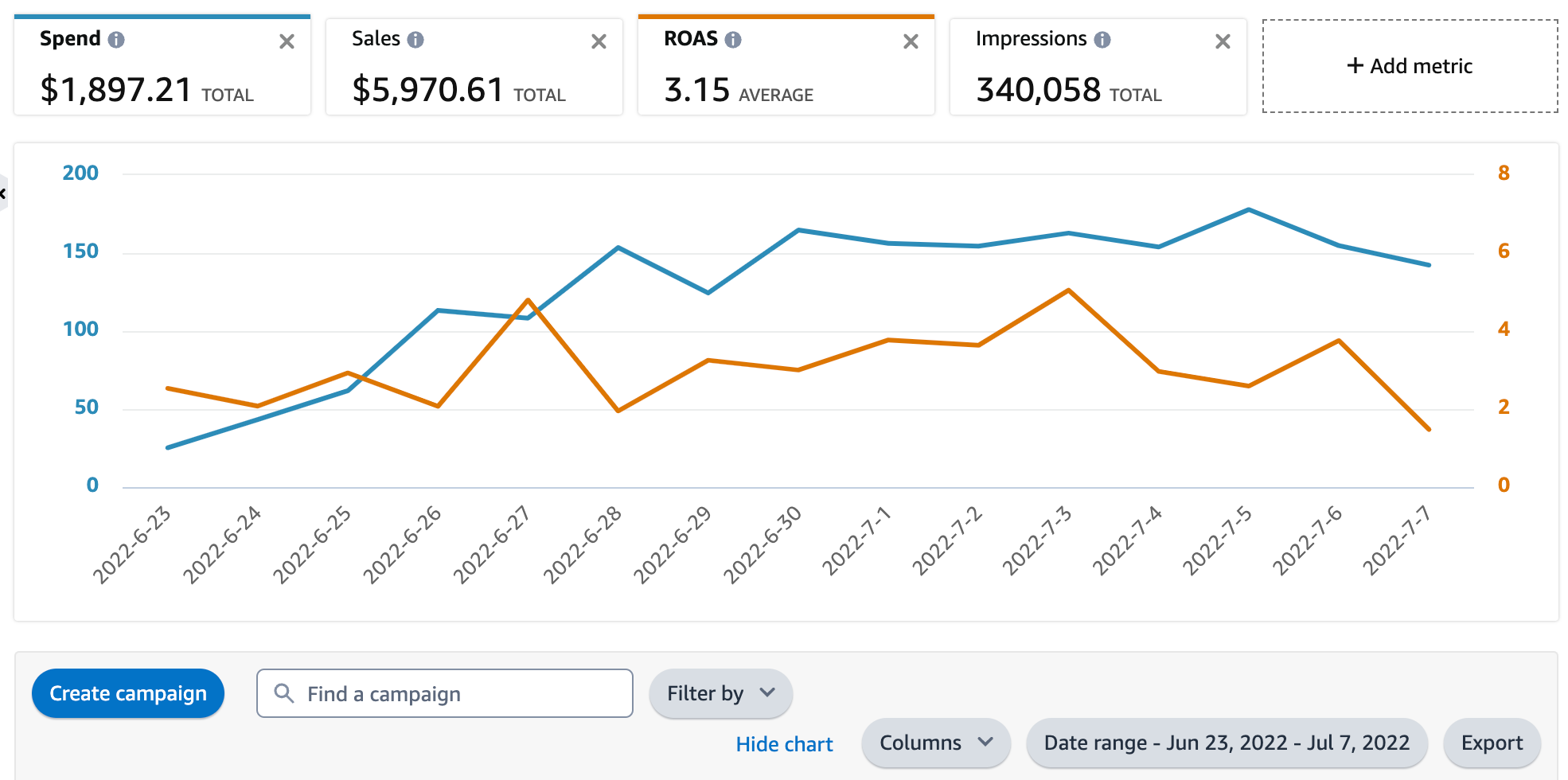 So, how does Amazon charge you for your PPC campaigns?
Amazon has a threshold called a "credit ladder." You get charged until you reach the threshold of $50, $150, $200, $350, and the maximum of $500. Each time you reach a new level in the "credit ladder" and your credit limit changes, your account will be charged. If you use a credit card to pay for advertising costs, you will not see the "Cost of Advertising" charge on your disbursement report.
---
Sales Data Business Reports Sales vs Disbursement Report Sales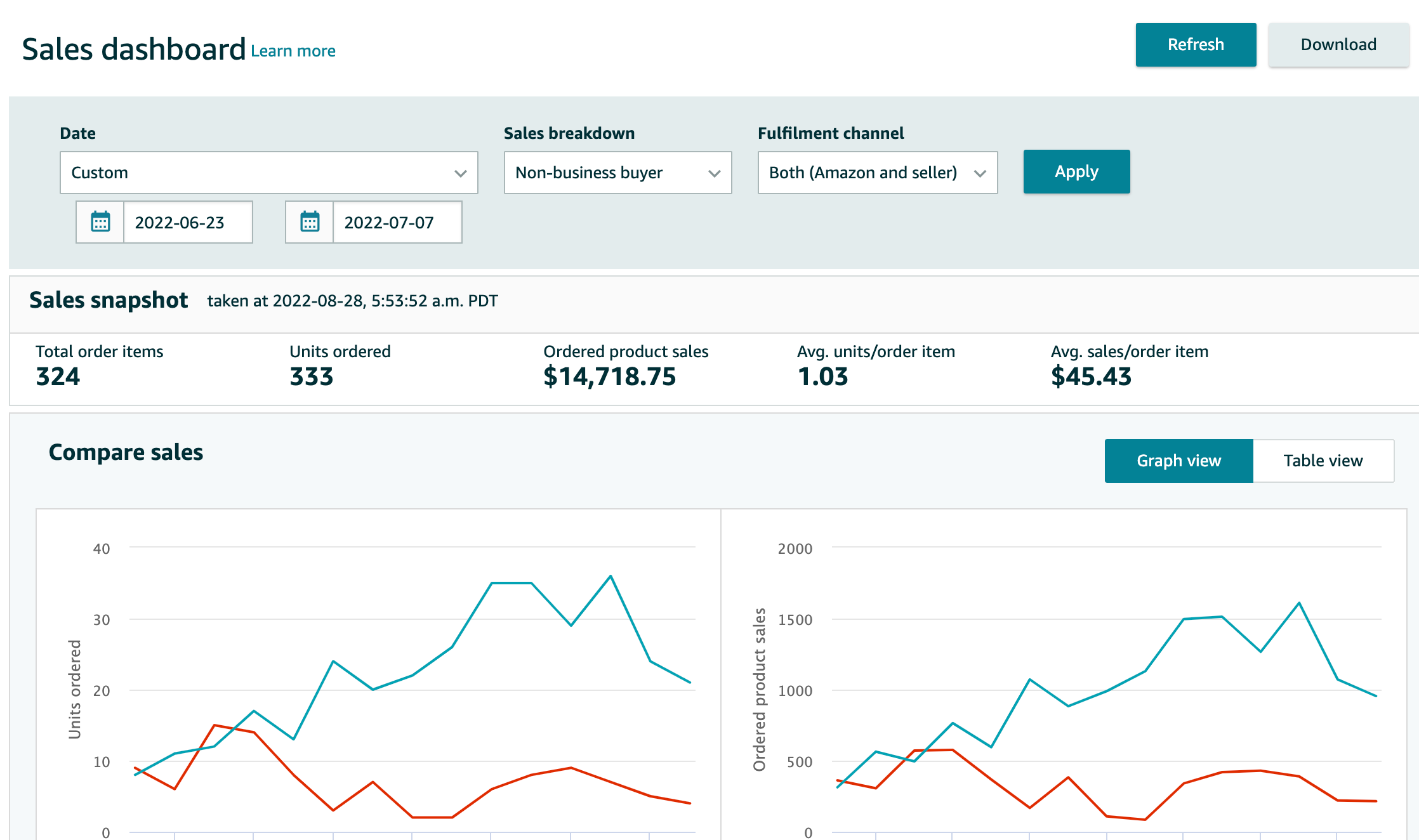 What about business reports? They also use the accrual basis method. They show sales when the customer makes a purchase.
On the disbursement report, amazon paid us $13k for posted sales, while for the selected period, we sold $14,7k worth of sales.
Why do your amazon sales seem different?
Disbursement sales are orders shipped for a selected period, while Business Reports include orders placed during a selected time period, regardless of settlement status.
---
To sum up, Cash Basis is for Cash Flow. Accrual Basis is for Profit Analytics
Now you see that using the cash basis method can give you a completely different picture of your business. That is why we recommend constantly tracking and calculating your sales and ad spending on an accrual basis.
How does this affect your performance KPIs?
It completely changes business performance metrics as well as your true profit calculation. Let's make a few examples.
TACOS
Your TACoS is 12.8% based on the accrual basis method (actual sales velocity and advertising spend)
Your TACoS is 11.6% based on the cash basis method (disbursements report)
Organic Sales %
Your organic sales are 54% based on disbursement reports (cash)
Your organic sales are 59% based on business reports (accrual)
It will affect any KPI and, of course, profitability calculation.
---
Automated Solution
The problem with using the accrual basis method for amazon seller analytics is that it requires downloading about ten different reports from an amazon account and properly combining them. It would help if you tracked all of these factors to get an accurate picture of your business's profitability.
Furthermore, the best way to do that is to use the Amazon Profit Analytics tool.
It allows you to monitor all your amazon revenue and expenses in one place and track your business's true profitability at a glance. If you want to save time and get accurate profit reports, we recommend using My Real Profit.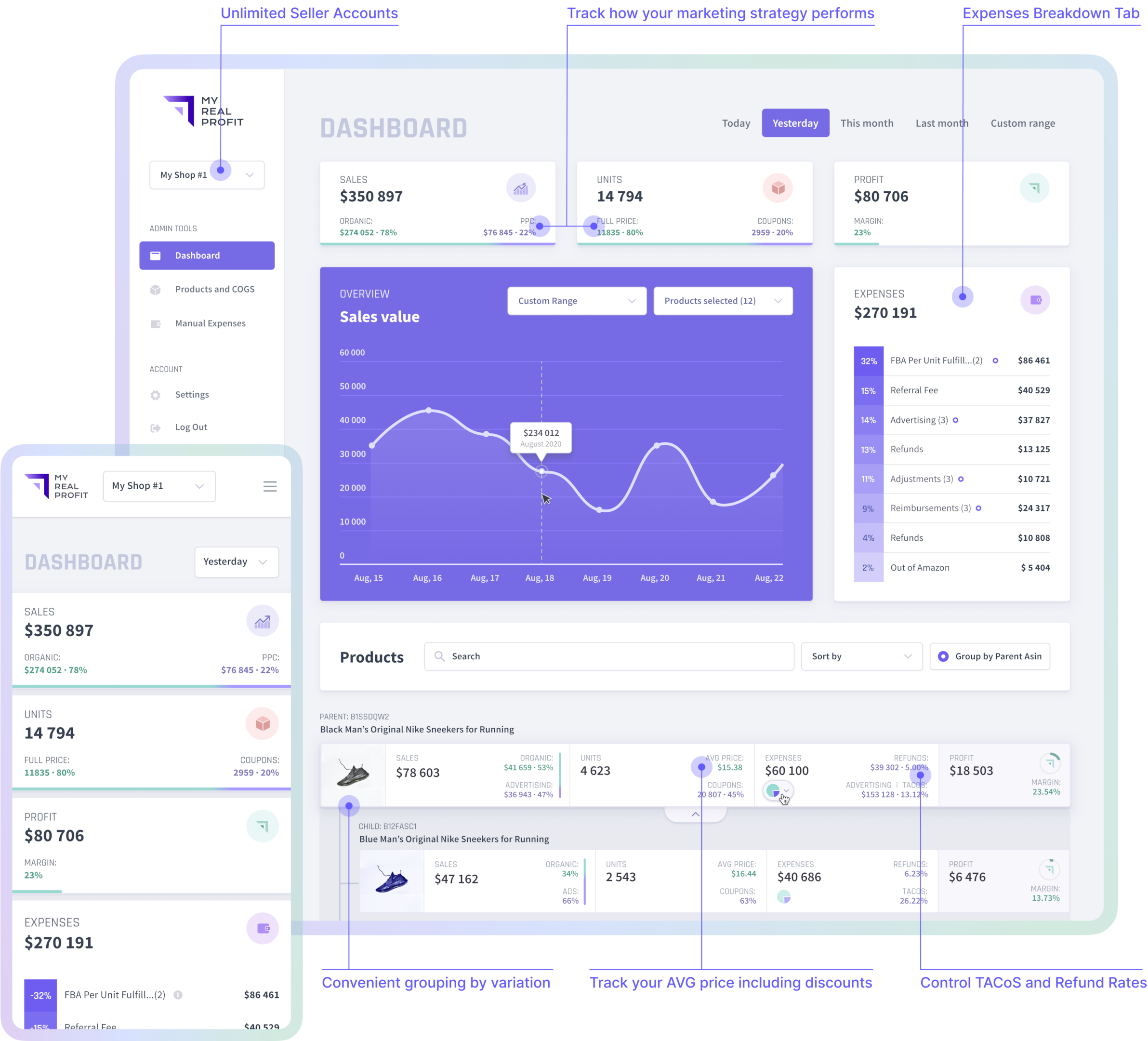 By using My Real Profit, you can get accrual profit analytics in just a few clicks. It will automatically take all your data safe from amazon and create a dashboard with profit data and a product dashboard with detailed information on your expenses metrics and profit margins. You can connect unlimited amazon accounts and see the full picture of your business on 1 page.
My Real Profit also does all the inventory management calculations for your Cost of Goods sold calculations, such as sellable returns or amazon reimbursements (Warehouse lost/damaged, etc.). It is a must-have for tracking your amazon product sales and profit with not having estimated profit but amazon net profit data on one page.
Schedule a call for a demo: LINK TO SCHEDULE A DEMO
Sign up for a free trial using the link below: LINK TO START A FREE TRIAL
Selling on Amazon can be a profitable venture and an ideal business model. Everything is online. Amazon manages, stores and fulfills your products and even handles product returns.
However, it is important to be aware of the associated costs. By understanding these costs, you can make informed decisions about whether or not selling on Amazon is right for you. Let us do a detailed breakdown of each amazon seller fees.
Fees for all sellers
Amazon Selling Plans: Individual vs Professional Seller Account
There are 2 plans to sell on Amazon:
Individual plan: you pay Amazon a fee per unit sold ($0.99). This plan works only if you plan to sell a couple of units per month.

Professional seller account: $39.99 per month. It gives you a lot of advantages.
Here is a table to compare 2 different amazon seller plans:
To sum up, the professional plan is recommended if you plan to sell more than 35 units per month.
Referral Fee (Amazon commission)
The referral fee is a commission that Amazon charges for every sale you make. The fee is calculated as a percentage of the item sales price (including shipping and any gift-wrapping charges for FBM sales) – discounts (coupons, discounts, promotions). The referral fee is charged when the order gets shipped.
Referral fees are based on the product category and range from 6% to 20% (30% for Amazon experiences). For most categories, the fee is 15%. The minimum referral fee is $0.30 per unit sold.
Overall, for every $100 in sales, you'll pay $6-$20 in referral fees.
If you sell products in the Books, DVDs, Music, Software & Computer/Video Games, Video Game Consoles, and Video Game Accessories categories, a variable closing fee of $1.80 per unit sold will apply.
Refund administration fee
Amazon charges a fee to process a refund requested by a customer. Amazon takes $5.00 or 20% of the refunded amount, whichever is less, as a refund administration charge.
These fees are immediately deducted from your Amazon account balance or charged to your credit card if your account does not have enough money when the customer requests a refund.
---
You will pay these fees to Amazon regardless of the fulfillment method you choose. Now let us check what delivery options amazon sellers have to ship their products to customers.
What are FBA and FBM? Which one should I choose?
Fulfillment by Amazon(FBA) is a service where sellers pay Amazon to have their products stored, picked, packed, and shipped. It can be an excellent option for sellers who want to take advantage of Amazon's world-class fulfillment centers network but do not have the time or resources to do it themselves.

Fulfillment by Merchant (FBM) is when the Amazon seller ships the products to customers on their own. It is a good option for sellers who want more control over their shipping process or do not want to pay the fees associated with FBA.
Both fulfillment options have pros and cons; ultimately, it is up to you to decide which makes the most sense.
Pros of using FBA:
Amazon FBA can help you save time and resources.

Scalability. When scaling an e-commerce business, it is always about being able to fulfill all products in time.

Amazon fulfillment fees are charged directly from your amazon account total sales (item price minus amazon fees). It prevents you from being scared that you don't have enough cash to ship products.

FBA listings have higher conversion rates. According to Statista, Prime Members Are 65% of All Amazon Shoppers.

Amazon covers all the customer service and returns processing for that order.

FBA fulfillment fee per item can be cheaper than 3p logistics delivery.

FBA can improve your customer satisfaction rating.

You can use Amazon multi channel fulfillment services to ship products for your other channels' sales.
Cons of using FBA:
You need to store your products in Amazon fulfillment centers (additional costs associated).

Amazon has strict inventory packaging and labeling requirements before they accept items into their warehouses.

Storage fees are usually more expensive than renting a warehouse.

---
Pros of using FBM:
You may have more control over your shipping process.

There are no additional fees associated with FBM.
Cons of using FBM:
You will need to handle fulfillment yourself.

You may need to invest in additional resources to do fulfillment effectively.

You are responsible for customer service (related to shipping issues) and returns.

No SEO perks from Amazon.
---
FBA vs FBM. What to choose?
Based on our experience, In 95% of cases, FBA is better than FBM. Fulfillment by Amazon allows you to focus on sales and grow your business instead of worrying about fulfillment, customer service, and other back-end operations. It is also important to note that customers prefer products fulfilled by Amazon, so using FBA can give you a significant competitive advantage.
Nevertheless, if you sell large-size and heavy products and expect to sell a small quantity of each product variation monthly, then FBM may be a better option. The additional fees, particularly, FBA fulfillment fees, may not make sense for such a business model.
The Amazon fee calculator can compare your FBA vs. FBM profit margins. Link to the calculator: https://sellercentral.amazon.com/
While we've covered the basics of profit calculation on Amazon in another post.
---
By understanding Amazon FBA costs, you can make an informed decision about whether or not FBA is right for your business. Here is a list of FBA fees that appears to any amazon seller.
FBA inbound shipping cost

FBA fulfillment fees

Returns processing fee

FBA storage fees. Long term storage fees

Removal fees

Disposal fees
FBA Inbound Shipping Fees
The first fee you will encounter is the FBA inbound shipping cost. It is the cost of shipping your products to Amazon fulfillment centers (facilities where Amazon packs and ships products on behalf of FBA sellers). The cost will vary depending on the size and weight of your products. The distance between your location and the Amazon fulfillment center will also affect costs.
---
FBA Fulfillment Fees
Amazon Fba Fulfillment Fees cover the cost of picking, packing, and shipping your products to customers. The per-item fba pricing is based on the size and weight of your product, and it will vary depending on the category in which you are selling (apparel/non-apparel).
---
Inventory Storage Fees
Monthly Storage Fee
In addition to the shipping cost, you will also have to pay Amazon FBA Storage fees. Amazon will charge you a monthly fee to store your products in their fulfillment centers. The storage fee depends on the size and weight of your products.
Amazon sellers are charged based on the average daily units in the fulfillment center, product volume, and size. The monthly storage fees per item are increasing during Q4.
A screenshot below displays how much it costs to store your products on Amazon.
Long Term Storage Fees
Items in a fulfillment center for more than 365 days are subject to a long-term storage fee.
You can check your monthly inventory storage fees by downloading a report from your Amazon seller central account.
My Real Profit tracks all amazon fees, including long term storage fees, and combines them in one convenient report so you can track all your FBA fulfillment costs on one page.
Removal Fees
If you want Amazon to remove an inventory item from its warehouse and mail it back, you will have to pay a removal fee. This amazon fba pricing for this fee is charged per unit based on your product's weight.
You got charged when the removal order was complete. It can take 90 days or more to complete a removal order.
You can see all your fulfillment costs, including removal charges, using the transaction report on your seller central account or the My Real Profit Expenses tab. You can try it for free for 14 days using this link.
---
Disposal Fees
If you decide to stop selling a product and want Amazon to dispose of it, you will have to pay a disposal fee. This fee is charged per unit based on your product's weight and size tier.
Amazon seller is charged when the disposal is complete.
---
Returns Processing Fee (applies s to Shoes and Apparel categories)
The FBA returns processing fee applies to products sold in the Shoes and Apparel categories where Amazon offers free return shipping.
Amazon seller is charged per unit returned based on your product's weight and size tier.
---
Other Amazon Seller Fees or Income
FBA Liquidation
Liquidation is when Amazon sells your inventory to a third-party company at a discounted price. The liquidation sales price is based on your average selling price, including your sales history.
Usually, liquidation is about 5% to 10% of your average selling price.
---
Inventory Placement Service Fee
The Inventory Placement Service enables you to have Amazon place all units of a particular product/ASIN at the same Amazon fulfillment center for each shipment. If you use this program, you may choose whether or not to participate by selecting an inventory placement option in your seller account.
---
Overall, it is essential to remember that many costs are associated with selling on Amazon. By understanding these fees and keeping track of them using a tool like My Real Profit, you can ensure that your business is profitable.
My Real Profit is a real-time profit analytics software for amazon that can help you keep track of all amazon charges and profitability on one page by account, parent ASIN, child ASIN, and SKU.
Schedule a call for a demo: LINK TO SCHEDULE A DEMO
Sign up for a free trial using the link below: LINK TO START A FREE TRIAL
Thanks for reading!